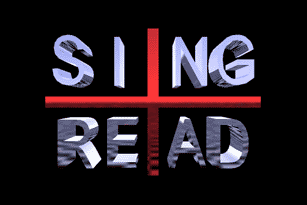 This enables the display of song words and Bible passages, notices and orders of service. Probably the first of it's kind, and simple to operate!
--- CAN BE USED WITH "INTERNET BROADCASTING" ---

Sing And Read 2
! ! ! NOW FREE ! ! !
Key Benefits (SAR v.2)
Building on the foundands of 'Sing And Read' and the benefits it provides, 'Sing And Read 2' specialises in twin-monitor displays, offering seamless and invisibly operated projection. This deluxe version of Sing And Read offers you the ease of having one monitor for use of your operator, and a SECOND monitor for projecting only those things you wish displayed. It is roughly as follows:
Monitor 1 (operator use)

Monitor 2 (display projected)

Main Control Panel (program core)
PowerPoint controls
NetMeeting
PowerPoint display
Online Bible
Songs and texts
Sing And Read 2 offers faster switching between displayed items and song verses. The operator can select something new to be displayed and also see the first lines of each verse of a song, all without disturbing the main projected screen.
This image shows the control panel that would be seen on the operator's monitor.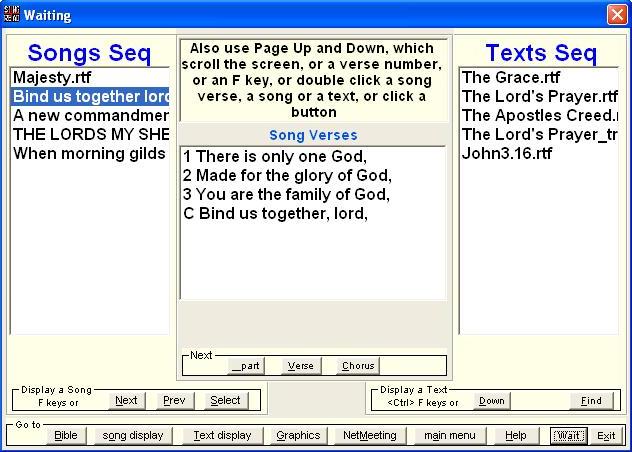 Previously, 'Sing And Read 2' required 2 identical video cards to utilise Windows 98/2000's dual monitor support. Nowadays though many cards have 2 outputs, or it can be run from laptops with a monitor output, so this is no longer a problem!
Please see our Tech Support area if you require further assistance with this feature.
See Sing and Read in action live! Check out the videos now up in the Sing and Read videos section, to see what it's like to use in a live church meeting!
If you wish to download 'Sing And Read 2' or ask for
more information, then click here to email us!